Armagh POS Solutions has been providing Grocery POS Solutions to Canada's most trusted brands in fresh food retail since 1979. We know that the most demanding retail environment on POS is Grocery.
These days, grocers want more than just scanning POS. Grocery wants self-checkout, online ordering, mobile POS for line busting, integrated credit & debit and tap and pay, integrated gift card, interfaced accounting, loyalty programs, integrated scale management systems, automatic electronic price tags, and an app for their customer's smartphone with the ability to pre-scan their own buggy or do click & collect on their way to the grocery store. And that's just what the customer sees on the front end.
On the back end and in the warehouse, the part that the customer doesn't see, the smart grocer also wants the ability to do perpetual inventory, and use labour-saving wireless handhelds, better yet, they'd like to have their supply chain interfaced and managed automatically, automated customer engagement and marketing programs, with multi-store enterprise management, and detailed reports and analytics, and doing it all in a secure environment for both the grocer and their customer alike.
Whether you are running a small neighbourhood food co-op, natural grocery, specialty food, micro market, or a larger supermarket or hypermarket, Armagh POS Solutions has the services available that can make this dream a reality. Not only do we provide the point-of-sale products and features grocery needs, but we also support it with local 24/7 onsite support and service and expert consultation.
Get ready to streamline your grocery operations, reduce costs, improve customer service, and maximize your profitability with Armagh.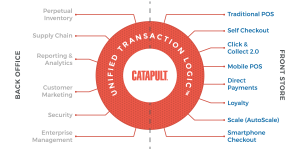 (Please click to enlarge image)