Italian Grocery Store Says Armagh A Perfect Fit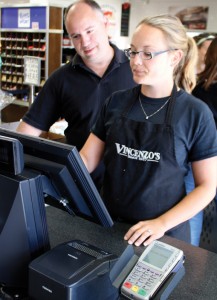 With plans to more than triple in size in 2008, the Caccioppoli brothers knew they had to find a grocery POS system that could handle the growing needs of Vincenzo's, the family's bustling grocery business in Waterloo.
After looking at a number of systems and providers, they opted for Armagh and the Catapult grocery POS system – they haven't looked back.
"We wanted a system that would be faster and more reliable than our previous system," recalls Carmine Caccioppoli. "We also wanted something that would allow us to take advantage of new technologies. We looked at probably half a dozen different grocery POS systems, and the Catapult system was really in that niche that we were looking for."
Armagh as a company, he adds, gave the brothers a sense of comfort that they would be well looked after. "Some of the other providers were very large, and we didn't feel they would be as responsive as Armagh has proven to be over time."
Carmine notes it was also important to find a system that would adapt to their unique style of food retailing. "We are the kind of store where people enjoy shopping, and as a result of that we sell a high volume of gift cards. The Catapult grocery POS system is really strong in this area."
Another unique feature about Vincenzo's is its partnership with local providers who deliver specialized products like seafood and fresh meats. "We needed a grocery POS system that would allow customers to pick up these products in the store from our partners, and pay for them along with everything else at the front end. Catapult does that seamlessly, and provides accurate reporting at the end of day so we can reimburse our partners for their sales."
Carmine notes that his brother Tony appreciates Catapult's ability to provide fast and detailed reporting on any aspect of sales within the store. "It lets him know, for instance, what is working and what is not. He also uses it to help motivate employees to promote sales."
From humble beginnings operating out of the family home more than 40 years ago, Carmine says his family is pleased to be serving the needs of children and grandchildren of original customers.
To download the pdf version of this onsite report click here.
About Armagh, The POS Specialists
Armagh has been serving the grocery POS industry in Canada since 1979, delivering solutions for a range of operators, from single-unit small businesses to multi-unit national chains. We are specialists in touch screen and scanning point of sale (POS) systems for both restaurants and retail stores, cash registers, scales, liquor inventory control systems, and grocery label and wrapping equipment.
With 30+ years POS industry experience
the sales staff at Armagh provides experienced consultants in point-of-purchase management, customer service efficiency, process automation, and restaurant order management.
Armagh's award winning Catapult Grocery POS Software is best-in-class, and Armagh is a Certified Toshiba POS Partner.